[ad_1]

If you are a long-time reader, you may have already figured out that I am fascinated by the behind-the-scenes and beneath-the-streets activities that enable and power so much of our modern world. For example, late last year I told you how The AWS Cloud Goes Underground at re:Invent and shared some information about the communication and network infrastructure that was used to provide top-notch connectivity to re:Invent attendees and to those watching the keynotes and live streams from afar.
Today, with re:Invent 2018 in the rear-view mirror (and planning for next year already underway), I would like to tell you how 5-time re:Invent Network Services Provider CenturyLink designed and built a redundant, resilient network that used AWS Direct Connect to provide 180 Gbps of bandwidth and supported over 81,000 devices connected across eight venues. Above the ground, we worked closely with ShowNets to connect their custom network and WiFi deployment in each venue to the infrastructure provided by CenturyLink.
The 2018 re:Invent Network
This year, the network included diverse routes to multiple AWS regions, with a brand-new multi-node metro fiber ring that encompassed the Sands Expo, Wynn Resort, Circus Circus, Mirage, Vdara, Bellagio, Aria, and MGM Grand facilities. Redundant 10 Gbps connections to each venue and to multiple AWS Direct Connect locations were used to ensure high availability. The network was provisioned using CenturyLink Cloud Connect Dynamic Connections.
Here's a network diagram (courtesy of CenturyLink) that shows the metro fiber ring and the connectivity: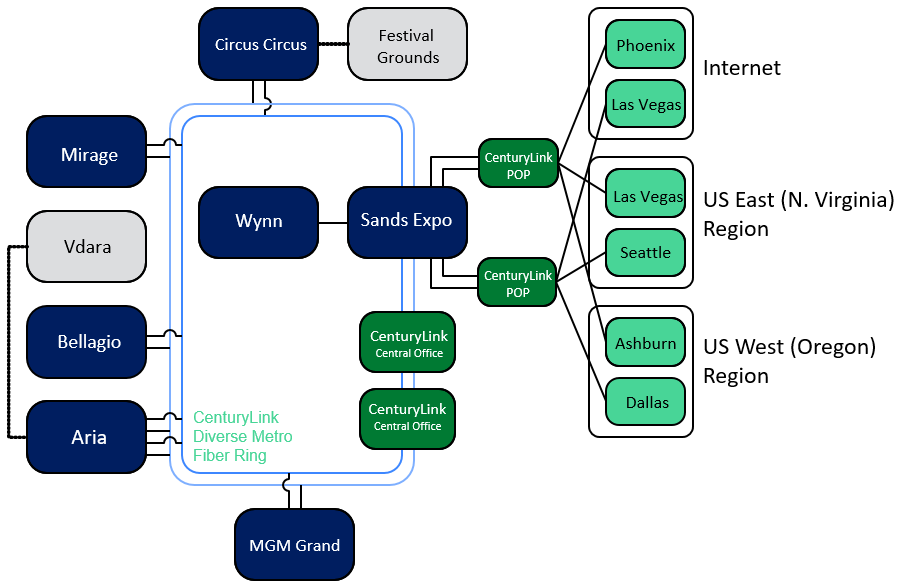 The network did its job, and supported keynotes, live streams, breakout sessions, hands-on labs, hackathons, workshops, and certification exams. Here are the final numbers, as measured on-site at re:Invent 2018:
Live Streams – Over 60K views from over 100 countries.
Peak Data Transfer – 9.5 Gbps across six 10 Gbps connections.
Total Data Transfer – 160 TB.
Thanks again to our Managed Service Partner for building and running the robust network that supported our customers, partners, and employees at re:Invent!
— Jeff;


[ad_2]

Source link